A B C D E F G H I J K L M N O P Q R S T U V W X Y Z All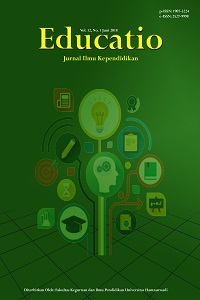 Educatio
Educatio (p-ISSN: 1907-3224; e-ISSN: 2527-9998) is an open access peer reviewed research journal that is published by the Faculty of Teachers Training dan Education, Hamzanwadi University. Educatio welcomes and acknowledges high quality theoretical and empirical original research papers, case studies, review papers, literature reviews, book reviews, conceptual framework, analytical and simulation models, technical notes about education science from researchers, academicians, professionals, practitioners, and students from all over the world. Educatio is published twice a year (June and December).
View Journal | Current Issue | Register
Edumatic: Jurnal Pendidikan Informatika
Edumatic: Jurnal Pendidikan Informatika (e-ISSN 2549-7472) mempublikasikan hasil penelitian bidang pendidikan informatika dan  teknologi informatika diantaranya pengembangan software, analisis sistem, pengembangan media dan inovasi pembelajaran teknologi dalam pendidikan bidang informatika. Jurnal ini  dipublikasikan oleh Program Studi Pendidikan Informatika, Fakultas Keguruan dan Ilmu Pendidikan, Universitas Hamzanwadi dan terbit dua kali setahun yaitu bulan Juni dan Desember.
EDUMATIC: Jurnal Pendidikan Informatika
Program Studi Pendidikan Informatika FKIP Universitas Hamzanwadi. Jln. TGKH. M. Zainuddin Abdul Madjid No. 132 Pancor Selong, Lombok Timur, NTB, 83612, Telp. (0376) 21394, 22953, Fax. (0376) 22953.
email : edumatic.pi@gamil.com
View Journal | Current Issue | Register