A B C D E F G H I J K L M N O P Q R S T U V W X Y Z All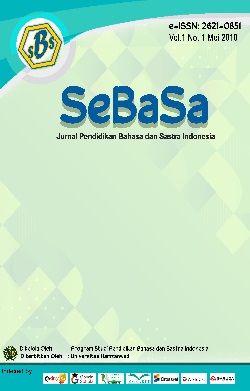 SeBaSa
SeBaSa: Journal of Indonesian Language and Literature Education is a journal published by Hamzanwadi University with e-ISSN: 2621-0851. Currently, the SeBaSa Journal has obtained the 4 rank of National Journal Accreditation with SK NUMBER 85/M/KPT/2020. SeBaSa is a forum for researchers, lecturers and observers of Indonesian language and literature to publish their research results in the fields of language, education, literature, linguistics and teaching. The articles published are the results of research, theoretical concepts and ideas that offer new value. SeBaSa is published twice a year, in May and November.
View Journal | Current Issue | Register
SINTEZA
Sinteza Jurnal Farmasi Klinis dan Bahan Alam, ISSN (online) 2797-8133, is a peer-reviewed journal in pharmacy. Established 2021, the journal is an open access of published articles to support greater exposure of scientific knowledge. Sinteza published online twice a year by Faculty of Health, Universitas Hamzanwadi.
Sinteza accepts various fields of research in pharmaceutical including community and clinical pharmacy, pharmaceutics, pharmacology, toxicology, pharmacokinetics, pharmaceutical chemistry, and pharmaceutical biology. Manuscript accepted in Sinteza including research papers and original research articles. Sinteza accepts manuscripts written in both Bahasa Indonesia and English.
View Journal | Current Issue | Register
SMARTS: Jurnal Kajian Ilmu dan Pendidikan
E-SMArtS: Jurnal Kajian Ilmu dan Pendidikan , selanjutnya jurnal ini terbit dua kali setahun yaitu bulan April dan Oktober. Jurnal E-SMArtS dihajatkan sebagai wadah untuk mempublikasikan artikel ilmiah dengan cakupan hasil penelitian dan kajian teoritis dalam bidang: 1) Pendidikan dan Pembelajaran; 2) Pendidikan Sosial-humaniora (IPS dan Bahasa); 3) Pendidikan Matematika; 4) Pendidikan Seni; dan 5) Pendidikan IPA (Ilmu Pengetahuan Alam). 
View Journal | Current Issue | Register
SOSIO EDUKASI: Jurnal Studi Masyarakat dan Pendidikan
Terbit dua kali setahun pada bulan Desember dan Juni. Berisi tulisan yang diangkat dari hasil penelitian dan analisis kritis. Jurnal Sosio Edukasi adalah jurnal di bidang Pendidikan dan Sosiologi yang diterbitkan oleh Program Studi Pendidikan Sosiologi Fakultas Ilmu Sosial dan Ekonomi Universitas Hamzanwadi. Penerbitan bertujuan untuk memfasilitasi interaksi, diskusi, advokasi, dan pemutakhiran gagasan dari para ilmuwan sosial dan pendidikan dari berbagai daerah di Indonesia. Jurnal bertujuan menyuguhkan kekayaan wawasan dan interpretasi atas berbagai fenomena sosial dan pendidikan baik terutama di Indonesia, maupun meluas di negara lain namun dapat memberikan inspirasi dan pembelajaran bagi studi di Indonesia.